I'm a magazine junkie...so yesterday I came across a collector's edition of Martha Stewart Weddings, and I just had to have it! I suggest all you brides pick up a copy today, it is chalk full of brilliant ideas! What I thought was the best idea was a bouquet made of only beads! It will not only save on money, but it will never wilt or fade and you will have a lifelong reminder of your wedding day! JUST BRILLIANT!
I've written the steps on how to make the bouquet pictured above.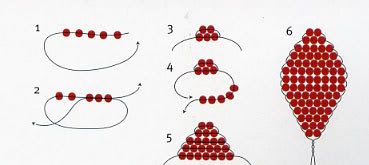 How to make it:
If you can, buy beads in hanks and thread wire through them while they're still on the string.
Petals: 1./ Cut 1 piece of 30 gauge galvanized wire for each petal (1 foot to 1 yard, depending on size.) String beads for first two rows onto wire; center.
2. Loop wire back through only the beads for the second row.
3. Pull taut.
4. Add beads for next row onto one end; slip the other end of the wire through row; pull taut.
5. Repeat, following the pattern.
6. Twist the wire ends together.