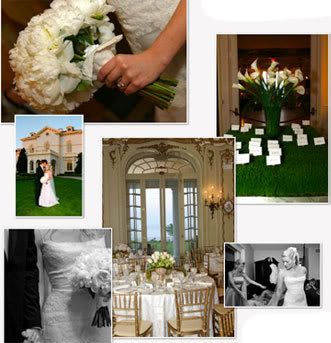 No bride really thinks that she is following a trend when planning her one-of-a-kind wedding day. The truth is, most brides read the same wedding magazines and watch the same reality wedding TV shows. So it is not surprising that many cannot help but absorb - and put into practice - at least some of what they see and read
For the past few seasons, green and white has been all the rage, this summer's weddings have a strong trend towards this same colour palette. That said, some of today's most fashionable brides are adding a new twist...purple! On its own purple - from violet to aubergine - may seem a bit too girly; but as an accent colour, it makes a green and white scheme feel fresh and modern.
And another benefit? A purple hue flatters your bridesmaids in a striking way that shades of celadon simply cannot. And you do want to be friends with them after the wedding, right?
*This article was written by Aimee Dominick, a talented wedding planner in Washington. If any of you brides are having a destination wedding, and you need a planner to make everything come together, consider working with Aimee. You can check out her website and see her work at adominick.com. From my experience, I have found Aimee very polite, cheerful and helpful...give her a try!*
*Sign up for our newsletter...filled with creative ideas and secret news about Diana and I ;). Email us at holly@tear-drop.ca*